Welcome to Barceló Maya Beach
Barceló Maya Beach - All Inclusive Resort - Riviera Maya
The Barceló Maya Beach***** hotel is located inside a fabulous All Inclusive Resort on one of the most beautiful beaches of the Mexican Caribbean with over 2 km of fine white sand, crystal clear water and a stunning coral reef.
The Barceló Maya Beach***** has been refurbished in order to adapt ourselves to our guests' expectations. The new impressively designed club house offers reception services, Club Premium Lounge, Lobby Bar Beach with smoking terrace, Beach Buffet Restaurant, "México Lindo" a-la-carte Mexican Speciality Restaurant, gift shops and meeting rooms.
Give yourself a touch of luxury on your trip and enjoy all the exclusive benefits offered by our Club Premium concept, marvel at the totally refurbished Club Premium Ocean Front Junior Suites and Suites.
The Barceló Maya Beach***** offers 3 restaurants including the Beach buffet with a new innovative design inspired by the Mayan culture, the spectacular "México Lindo" offering Mexican specialities and the "Rancho Grande" beach restaurant with views of the Caribbean sea; as well as 3 bars strategically located throughout the hotel. The Barceló All Inclusive programme offers 24-hour availability of snacks, meals and drinks.
Enjoy the hotel facilities and magnificent views from the recreated green areas and completely renovated swimming pool and Jacuzzi, new children's play area, gym, shopping centre, U-Spa and for children the miniclub clubhouse and U-Kids Spa. You can enjoy all kinds of sports during your stay, including tennis, basketball, snorkelling, kayaks, windsurfing and 18-hole miniature golf. At night, enjoy the vibrant nightlife that the hotel offers with live shows in the Kukulcán Theatre and Jaguar's nightclub.
Also, with the Barceló All Inclusive programme you can access all the restaurants, bars, swimming pools and beach facilities of the Barceló Maya Caribe hotel.
Barceló Maya Beach Resort
The Barceló Maya Beach hotel forms part of the Barceló Maya Beach Resort complex; a set of 5 luxurious all inclusive hotels in Riviera Maya that will make your holidays a dream-like experience.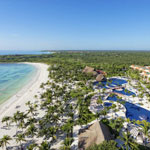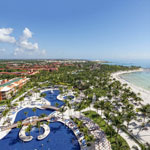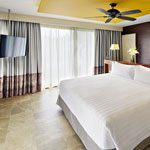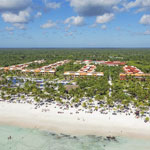 Facilities & Services
Dolphinaris at Barceló
Experience the best interactive experience with dolphins in the new Dolphinaris at Barceló , located opposite the beach and surrounded by beautiful tropical landscapes. The enclosure is certified by the European Association for Aquatic Mammals.
The dolphinarium is located within the complex and is exclusively for guests of the hotel Barceló Maya Beach Resort. It has an innovative concept of shallow platforms, for carrying out the interaction programmes in complete safety for any visitor.
There are service areas available to swimmers and their guests such as entrance services, customer services, induction classes, an innovative outdoor lounge which holds Trainer for a Day classes - its star programme, as well as photo and video services.
Dolphinaris at Barceló offers 4 different Programmes, all designed so that everyone can live an unforgettable experience.
The show starts with a fun acrobatic display and then goes into a dolphin orientation session with seasoned trainers, where you can dispel any myths you may have about dolphins.
Other activities include, depending to the programme of your choice: diving with dolphins, observing their habit underwater using a visor, kiss, greeting, hug, and the famous "footpush", among others.
Swimming Pools & Entertainment
2 impressive pools with Jacuzzi
A different, unique show with live music every night!
Jaguar's Nightclub: for adults (over 18) only Free access to the Nightclub and national drinks included until 2.00. (2.00 am)
VIP Lounge (at an additional charge)
Spanish dancing classes, aquarobics, etc.
Facilities for Children
The Barceló Maya Beach hotel has an ideal area for children and teens to really enjoy their holidays. There is also the fantastic Barcy Kids Club with an entertainment programme for 4 to 12 year olds.
At the Teen Club teens will find their own space to have fun with the latest new games. We also offer pool, video-games and the best music.
In addition, the whole family can enjoy an 18-hole miniature golf course.
In other words, you will find fun and entertainment appropriate for every occasion, surrounded by your loved ones.
Meeting Rooms and Internet
2 conference rooms, which can be converted into 6 rooms with capacity ranging from 45 to 350 people.
Sports at the Hotel
Professional football pitch with changing rooms
Tennis (7 floodlit courts, rackets and balls at no cost)
Basketball court and multi-sports track
Kayaks
Windsurfing (standard boards). Prior reservation is required and a minimum and essential knowledge
Scuba diving (1 class in the pool at no additional cost per stay)
Catamaran sailing Prior reservation is required and a minimum and essential knowledge
Water tricycles
Aquarobics in the pool
Water polo
Beach volleyball
Table tennis
Darts and archery
Giant Chess
Pool tables
Other Facilities
Express Maya train Visit the whole of the Barceló Maya Beach resort comfortably on our free train. Services every 20 minutes from 08.00 to 02.00. (8.00 - 2.00 am).
U-Spa
Over 1,500 m2 dedicated to pampering body and mind...
New U-Spa & Wellness at the Mayan inspired Barceló Maya Beach***** hotel, with a spectacular Temazcal, a Mayan steam bath.
With curved architecture that induces a feeling of relaxation and which reaches its greatest exponent in the interior, with an enveloping environment due to its forms, giving guests the sensation of losing themselves in their surroundings.
Enjoy relaxing treatments for your body: 25 massage rooms, a flotation room, a hydrotherapy room, 3 Vichy rooms and a Swiss treatment room, amongst others.
* All prices are shown in USD and are subject to change without prior notice.
U-Spa Circuit and Treatments
The Mayan people understand the idea of purifying the soul through the physical cleansing of the body. If you want to renew your energy or just relax your muscles, our spa services are sure to rejuvenate and balance your senses.
The U-Spa offers the finest treatments including aromatherapy, reflexology, deep tissue massage and more. We also have steam baths and showers, available to everyone.
Some of the relaxing treatments you could enjoy with us include:
25 massage rooms
A flotation room
A hydrotherapy room
3 Vichy rooms
A Swiss treatment room
Weddings
A wedding means romance and passion. It's one of the sweetest moments a couple can experience. Imagine celebrating your wedding on the shores of an incredible beach with fine sand and crystal clear water, surrounded by exuberant vegetation.
The Barceló Maya Beach***** hotel on the Mayan Riviera provides you with a 2 km private beach so you can celebrate your special union with your loved ones, in paradise.
More than a hotel
Dreamy Resorts
Enjoy an extraordinary holiday in this fantastic tourist complex recently built on its ownextensive 2 km beach.
Within the Barceló All Inclusive programme we offer all the meals and local drinks at the 6 restaurants and 6 bars and we invite you to enjoy the day and night-time entertainment programme, nightclub, children's club (for 4-12 years old), gym, sauna, Jacuzzi and an endless array of activities on the edge of the Caribbean sea.
Groups, conventions, conferences and incentives
The Barceló Maya Beach Resort offers large modern rooms for conventions, congresses and special events with capacity for up to 500 people.
Couples
We offer you the possibility of holding your ceremony or renewing your vows at the marvellous Barceló Maya Beach Resort where a wedding coordinator will be at your entire disposal to ensure your day is totally prefect.
Diving
The Riviera Maya is one of the best places in the world for diving and probably the best in the Caribbean, thanks to the combination of the transparent water, with well preserved coral reefs and the diversity of its marine flora and fauna.
The water at Riviera Maya is perfect for scuba diving thanks to its clearness, with visibility between 15 and 60 m according to the time of year, averaging 25 m. The fauna comprises the multicoloured fish of the corral reef, turtles, barracudas, grouper and in some areas, sea eagles. La temperature of the water varies from 25° C in winter to 30° C in summer.
Families with children
In a setting of complete freedom, choose from a wide range of activities for the whole family or each member according to their tastes: land sports, water sports, entertainment and leisure activities such as contests, games, aquarobics, sports tournaments, night-time shows in the theatre.
We have created a Mini-Club where our qualified staff organise all types of activities for children between the ages of 4 to 12, such as games, contests, drawing, crafts, films, mini-disco, mini-aerobics, playground and lots more besides...
Children's club
Barcy Club for the little ones aged 4 to 12, a fun programme of activities with trained staff to look after your children.
Parents can enjoy the safety and peace of mind of knowing their children are in an environment that will let them have the time of their lives.
The buffets of the Barceló Maya Beach complex has a child-size bar, where they can find their favourite foods such as hamburgers, mini vegetables, chips, chicken nuggets, cheese fingers, fish fingers, spaghetti, French baguettes, mini fruits, hotcakes, yogurts, desserts and of course, ice cream for everyone!
TheKid's Club activities are supervised and include:
Games with our entertainment team
Beach outings
Puzzles
Handicrafts
Balloon contests
Films
Beach volleyball
Sand castles
Football
Board games
Dance classes
Mini disco
and many more activities!